Contents - Index - Previous - Next
---
Name Search


Name Search allows you to quickly search for a waypoint by its name. A "contains" filter is set on the waypoint name. The filter is set after each keystroke, so filtering/searching is immediate.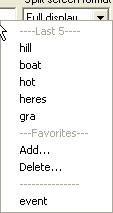 The Name search box also remembers your last 5 searches and you can add/delete your own favorites to use any time. Just right mouse click in the name search box to bring up this menu. You can then select any item from the list to use in the name search.

When you enter a character that causes the search to yield zero waypoints, GSAK will remove the last character entered (you get a message to let you know what is going on) and return to the previous search. This helps the flow of name searches, especially when you make typing mistakes. You can just hit "enter" after your mistake (to clear the message and last character keyed) then key in the correct character.

You can also change this behaviour in the options dialog. Please see "name code search beep" (via Tools=>Options=>General) and "name search delay" via (Tools=>Options=>Advanced)

You can cancel this filter by clicking on the Cancel Filter

toolbar button, by blanking out the contents of the Name Search edit field, or by pressing the ESC key.

You can activate the Name Search field from the database view with Ctrl-Q.