Contents - Index
---
GSK (.gsk) File extension
---

As from version 7.1 GSAK introduced the .gsk file extension for macro files. The contents of the macro file is still plain text and the .txt extension is still supported for macro files, but having a .gsk extension provides extra functionality.


Any file that has a .gsk extension can be installed directly as a macro by:

1. Downloading the file from the internet and then selection the "Open" option
2. Dragging the file to the GSAK icon on the desktop
3. Dragging the file to the running GSAK application
4. Double mouse clicking the file while in Windows explorer
5. Right mouse click, and select "Open" (from most applications, including Windows explorer)

Any of the above options will automatically open the "Open a GSK file" dialog:






Install the macro - select this option to install the macro. This is the default action and recommended if you want to use the macro again. After installation you will be taken to the Macro run/manage dialog

Installing a macro does 2 things:

1. Adds this macro to your database of installed macros you can run via "Macro=>Run"
2. Physically copies the file to your "Macros" folder

When installing a macro if GSAK detects you already have a file with the same name and the contents are different you will get the following prompt: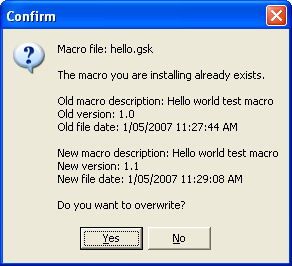 Run the macro now - select this option to immediately run the macro without installing it.

Open in macro editor - select this option to open up the GSAK macro editor with the contents of this macro file.