Contents - Index
---
Export Microsoft Streets and Trips File Dialog Box (File=>Export=>Microsoft Streets)
---


Use this dialog box to create a PSP waypoint file in a format suitable for the Microsoft Streets and Trips application. The Streets and Trips CSV file is a plain text file in which each line represents a waypoint description consisting of a comma-separated list of values.

Click on any screen section for more information about that feature.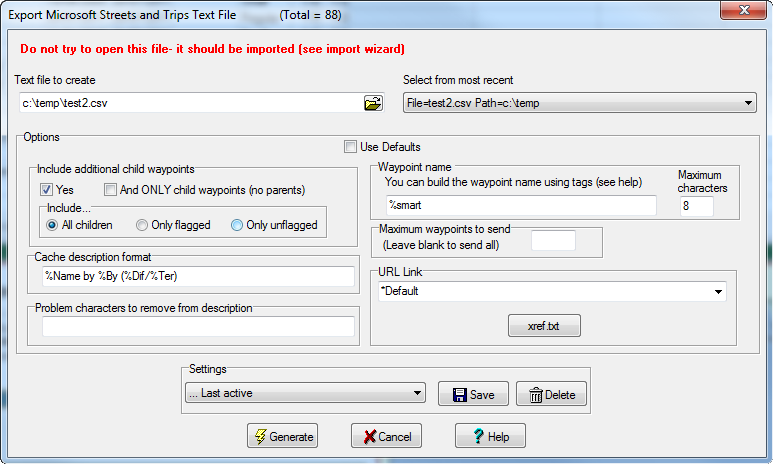 URL Link Note: When importing the SnT file generated by GSAK with either the Default or XREF selected in the URL Link field S&T defaults to "Use hyperlinks from your imported data:" & "URL".

However when using a URI string in the URL Link field and importing the resulting csv file into S&T it defaults to the setting "Use Hyperlinks you add to the Pushpin balloon notes" as shown below'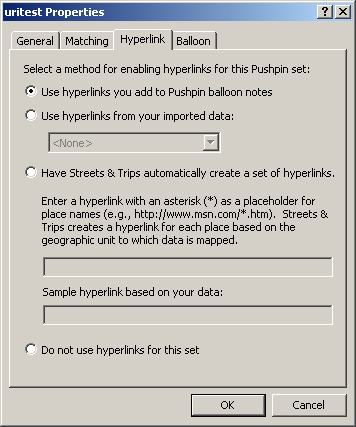 To get the URI to work the settings have to be manually changed by right clicking on the Pushpins dataset in Streets&Trips, select properties, Hyperlink tab, and changing the settings to "Use hyperlinks from your imported data:" & "URL".