Contents - Index
---
Download pocket queries (Geocaching.com access=>Download pocket queries
---




Use this option to download and optionally load your Geocaching.com pocket queries (often referred to as just "PQs" ) into GSAK. For more information on the set up of pocket queries see this link

Basic tab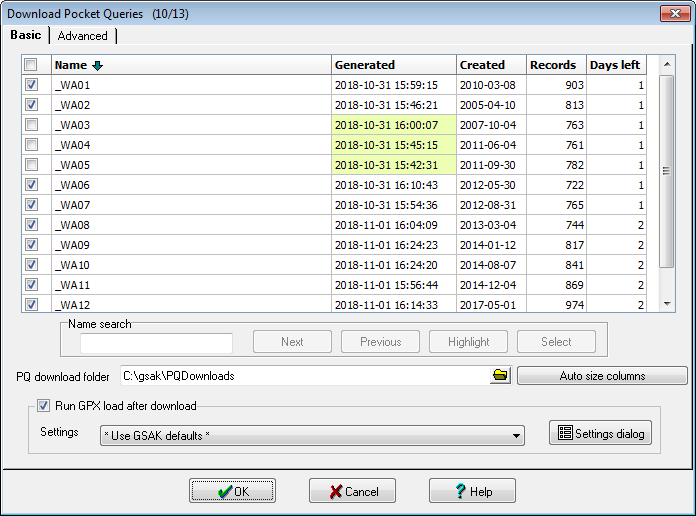 Here you can view the list of PQs ready for download. By default, GSAK will automatically select PQs that have not yet been downloaded (you can change this default setting on the advanced tab). You can manually check or uncheck the box for any PQ. Any selections done manually will override the initial automatic default selection. You can click on any column heading to sort the list on that column in ascending order (click again for descending order). You can use the search box at the bottom of the grid to find and highlight PQs. If the date/time is displayed in light green, then this indicates this PQ has been downloaded at least once.

PQ download folder - Select the folder you want the PQs downloaded to. All checked PQs will be placed in this folder.

Run GPX load after download - Check this box to have GSAK automatically load the PQs. You can select a saved load setting to apply to the load or just select the GSAK default. When you select the setting of "*Use GSAK defaults*", The settings used to do the load are the same as if you had checked the box "use defaults" in the GPX load dialog, but with the following exceptions. Click on the "Settings dialog" button to view or change any saved setting.

1. GSAK loads all the files that it finds in your download folder
2. After the load all files in this folder are removed

If you don't want this behaviour then you will need to set up and use different settings for the load.

Advanced tab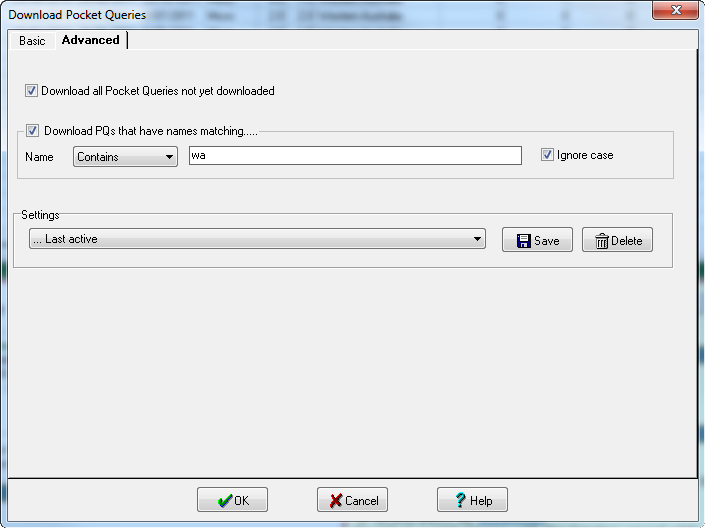 Download all PQs not yet downloaded - GSAK saves a history of all the PQs you have downloaded. Check this box to have GSAK automatically check PQs for download which are not found in the history download.

Download PQs that have names matching - Check this box if you want selected PQs (matched by name) automatically checked for download. If you check this box *and* the previous box, then only PQs that match *both* conditions will be downloaded (in other words, the two conditions are treated in an "and" relationship)

Settings - This is the standard GSAK settings box that allows you to save and restore your selections.