Contents - Index
---
Log Filter Examples (Search=>Filter=>Logs)
---


Examples:
1. Select caches where the last 4 logs in a row are DNF (excluding notes)
2. Select caches where any 2 of the last 4 logs are DNF (excluding notes)
3. Select caches that have not been found yet
4. Select caches that have been found by a fellow geocacher that goes by the name "Bozo"
5. Select all caches in my current database that I have not found AND my friends (geocaching.com names is "Bozo" and "Billy") have not found.

Example 1. Select caches where the last 4 logs in a row are DNF (excluding notes)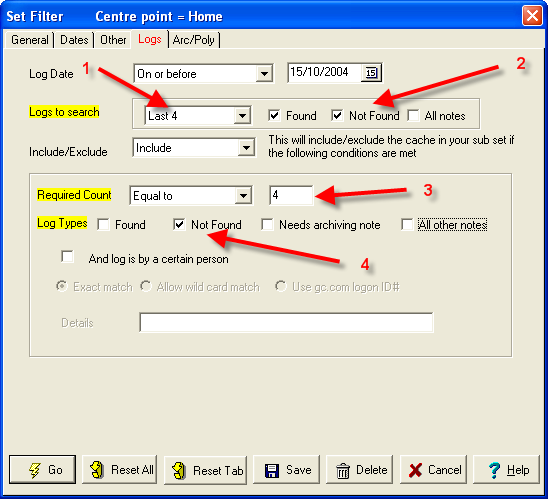 Note 1 - You must select last 4, otherwise GSAK will search ALL logs for 4 DNF logs. That is, if you leave this selection to "All" there could be 4 DNF's in a row but they could be in logs 5-8 - which is not what you want.

Note 2 - You must exclude notes, otherwise GSAK will literally search the last 4 logs including notes. For example, if the most recent 5 logs contain a note then 4 DNFs, if you don't exclude notes your filter will not include this cache. Also observe that you must select found and not found for the search. If you only selected not found, then GSAK would only interrogate the last 4 DNF logs - and these could be dispersed over many logs.

Note 3 - Equal to 4 is required because we want exactly 4 DNF logs in a row.

Note 4 - Only select DNF here, because we want to compare our count to DNF logs only



Example 2. Select caches where any 2 of the last 4 logs are DNF (excluding notes)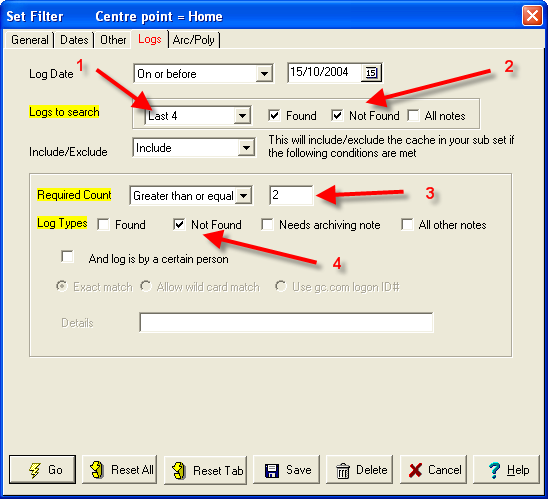 Note 1 - You must select last 4, otherwise GSAK will search ALL logs for 2 DNF logs. That is, if you leave this selection to "All" there could be 2 DNF's in logs 5-8 - which is not what you want.

Note 2 - You must exclude notes, otherwise GSAK will literally search the last 4 logs including notes. For example, if the most recent 6 logs contain 4 notes and 2 DNFs, if you don't exclude notes your filter will not include this cache. Also observe that you must select found and not found for the search. If you only selected not found, then GSAK would only interrogate the last 4 DNF logs - and these could be dispersed over many logs.

Note 3 - Greater than or equal to 2 is required because we want at least 2 DNFs (that is, this selection will include 2, 3, and 4)

Note 4 - Only select DNF here, because we want to compare our count to DNF logs only



Example 3. Select caches that have not been found yet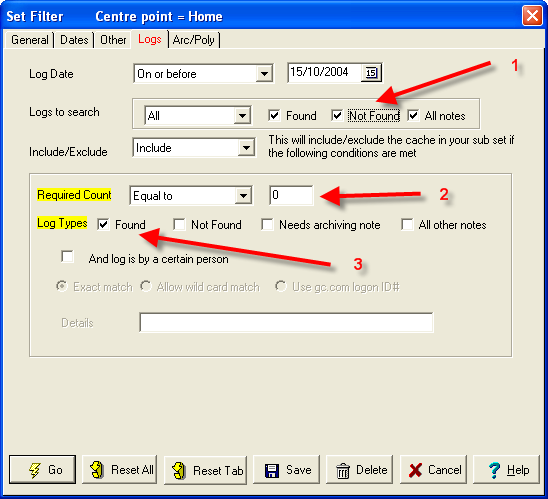 Note 1 - For this example you could also just check the found box, but the default selections will also work so it is easiest to just leave as is.

Note 2 - Caches that have not been found will have a found log count of zero.

Note 3 - There may be notes and DNF's on this cache, but we only want to know if there is a found log.



Example 4. Select caches that have been found by a fellow geocacher that goes by the name "Bozo"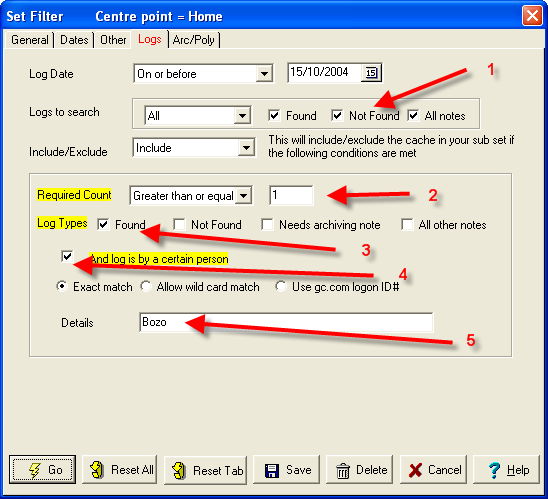 Note 1 - For this example you could also just check the found box, but the default selections will also work so it is easiest to just leave as is.

Note 2 - We need at least one found log to qualify (there could be more)

Note 3 - There may be notes and DNF's on this cache, but the log count we want to compare is the found logs.

Note 4 - We only want found logs by a particular cacher. To enable you the compare the log to a certain person you must check this box.

Note 5 - There may be many found logs, but we only want those found by "Bozo"


Example 5. Select all caches in my current database that I have not found AND my friends (geocaching.com name is "Bozo" and "Billy" ) have not found.

Please note this example will only be true if your database contains logs of all your friend's finds. There are two tabs that need explaining: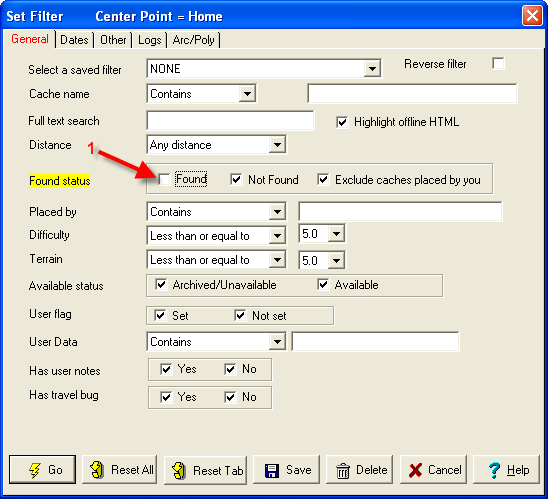 Note 1 - This will exclude all the caches that you have found

Now we need to exclude all the caches that your friend "Bozo" has found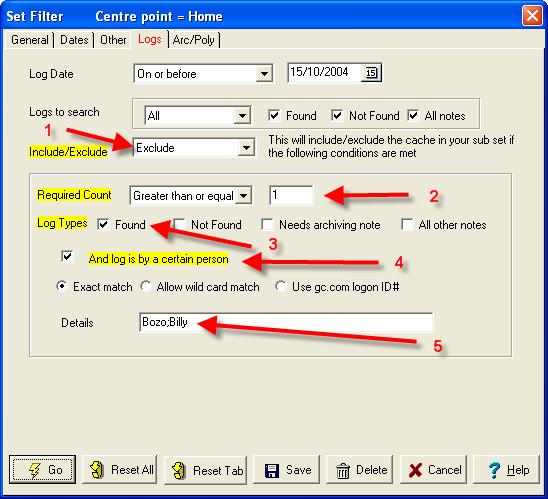 Note 1 - We want to exclude caches that match our selection criteria.

Note 2 - We need at least one found log to qualify (there could be more)

Note 3 - There may be notes and DNF's on this cache, but the log count we want to compare is the found logs.

Note 4 - We only want found logs by particular cachers. To enable you the compare the log to a certain person you must check this box.

Note 5 - There may be many found logs, but we only want those found by "Bozo" and "Billy". Also note that each cacher name is separated by a ; (semi colon)